At the Quarter Pole
---
---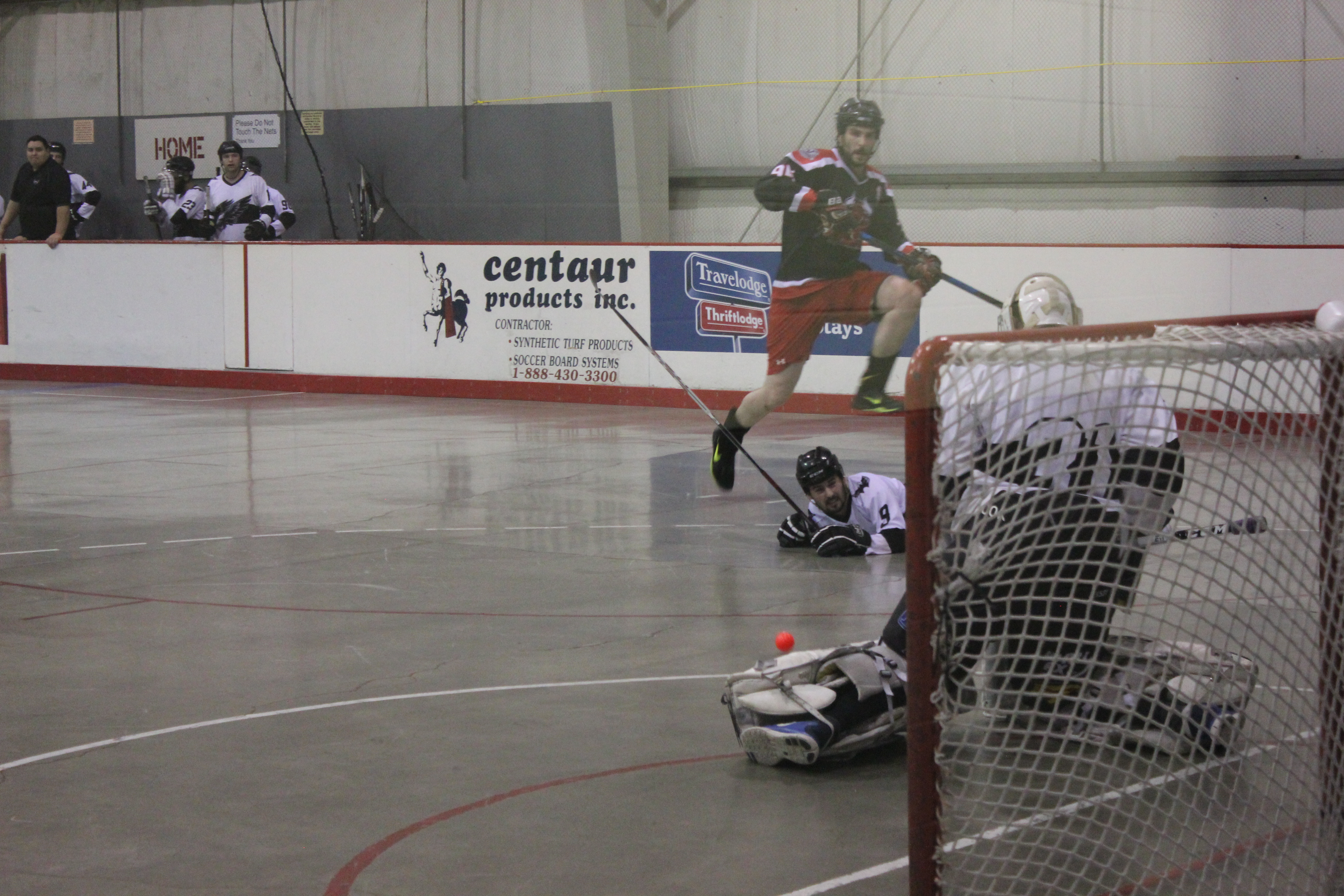 ---
It still feels as though the season has just got underway...but already teams are flying past the quarter point of the 24-game regular season schedule.
We are down to just four perfect teams left. The Soldiers are 6-0 in division 7. The Capitals (division 10) and Jokers (division 8) both sit at 7-0. The GWOPS of division 11 are also 7-0.
On the flipside, there are three teams who have yet to register a single point. The Horsemen (0-6, division 7), MYC Knights (0-7, division 8) and the Puppers (0-8, division 11) are all still searching for their first win...first tie...anything!!
Currently the leagues top point-producers with 23 total points. Wasik leads all scorers with 17 goals. Ricky Creval, of the division 10 Capitals, top BHE with 15 assists.
Between the pipes, Jimmy Herrington of the 7C's (division 8) leads all netminders (with 2 or more games played) in goals against average. Herrington currently carries a 1.33 gaa through 3 games.
Here is a quick rundown of the each divisions leading scorer, top goaltenders and top teams:
TOP SCORERS

DIV
NAME
TEAM
GP
G
A
P
1
Lee Jubinville
Savages
6
6
9
15
2
Graydon Woodman
Gators
5
8
8
16
3
Ryan Jevrie
Flying Picos
7
7
10
17
4
Darren Graff
Lions
4
11
5
16
5
Daniel McGillis
Human Centipedes
6
14
9
23
7
Brad James
Silver Kings
6
11
9
20
8
James Osbourne
McMuffins
6
13
8
21
9
Cody Wasik
Rampage
6
17
6
23
10
Ricky Creval
Capitals
7
7
15
22
11
Bo Cornell
Gremlins
6
13
9
22
12
Thurston Kesteris
Snakearm
7
11
10
21
TOP GOALIES

DIV
NAME
TEAM
GP
W
GAA
S%
1
Carson Schreiber
Top Whale BHC
6
4
2.11
0.91
2
Marcus Johnson
Cobras
2
2
2.00
0.91
3
Kurt Rackel
Dirty Birds
2
1
3.54
0.85
4
Kelvin Kazakewich
Sharks
6
4
2.79
0.89
5
Jon Berard
Colonels
3
2
2.00
0.91
7
Gene Jones
Warriors
2
2
2.00
0.94
8
Jimmy Herrington
7C's
3
2
1.33
0.94
9
Connor O'Flynn
Snipes
6
4
2.29
0.90
10
John O'Dell
Regulators
2
1
2.13
0.89
11
Johnny Tisi
GWOPS
6
5
2.00
0.88
12
Nath Ashwin
Storm
4
3
2.28
21
TOP TEAMS

DIV
TEAM
GP
W
L
T
P
W%
GF
GA
1
Nighthawks
7
5
2
0
10
.714
31
21
1
Savages
7
5
2
0
10
.714
42
23
2
Gators
7
4
3
0
8
.571
41
41
2
Cobras
7
4
3
0
8
.571
32
32
3
Dirty Birds
7
5
1
1
11
.790
39
27
3
The X
7
5
1
1
11
.790
38
30
4
Bar South
7
6
0
1
13
.930
37
20
5
Haggard
7
6
1
0
12
.860
22
12
5
Human Centipedes
7
6
1
0
12
.860
42
19
7
Soldiers
6
6
0
0
12
1.00
32
14
8
Jokers
7
7
0
0
14
1.00
39
26
9
Mad Dogs
7
6
1
0
12
0.86
27
21
9
Spartans
7
6
1
0
12
0.86
51
26
10
Capitals
7
7
0
0
14
1.00
49
26
11
GWOPS
7
7
0
0
14
1.00
43
13
12
Hellions
7
6
1
0
12
0.857
34
22